Combat Wipes Commando Black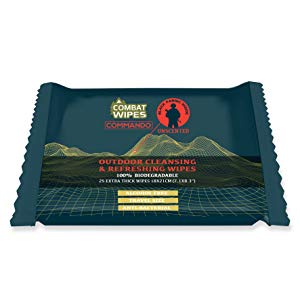 Combat Wipes Commando Black, Unscented Camouflage Wet Wipes | Thick, Ultralight, Biodegradable, Heavy Duty Cleansing Cloths for Camping, Military, Hunting & Backpacking w/Aloe & Vitamin E (25 Pack).
THE IDEAL OUTDOOR WET WIPE- These wipes are essential for ANYONE experiencing the outdoors who does not have access to a shower or fresh water, yet wants to stay clean, refreshed and environmentally conscious. They are extra-thick, conveniently large (7.1" x 8.3"), and designed with a unique texture that cleans better with every wipe.